A Wide Range of Services
At Big Guy Auto you will be treated with respect. We are honest and never recommend work that isn't necessary. We are proud of our dependable work and we use quality parts to repair your vehicle. We offer competitive pricing and honor manufacturer warranties.
Any modern or classic vehicle has several connected systems that work together seamlessly to create a smooth driving experience. However, when these systems fail, a professional diagnostic check-up will return everything back to proper working order.
We confidently assess warning lights (ex: check engine, brake, abs, airbag etc), electrical problems, performance issues, or noises you may hear. We will look at the related systems, and take the time to properly diagnose the issue at hand and get your vehicle back to its factory performance potential.
Many people might think of vehicle inspections in Red Deer and area as an unnecessary trouble to be completed every year. While most modern cars and trucks will pass an inspection easily and with flying colors, this service when performed by Big Guy Auto has additional benefits that could help you save a considerable amount of money and prevent more costly repairs in the future.
Whether you need a simple pre-trip inspection, Alberta Safety, seasonal check up, pre-purchase, or second opinion inspection, Big Guy Auto is the place for you. In addition to the required checks, we will provide a written estimate of major and minor concerns, as well as pictures, if required. We are the local, Red Deer inspection provider you can trust.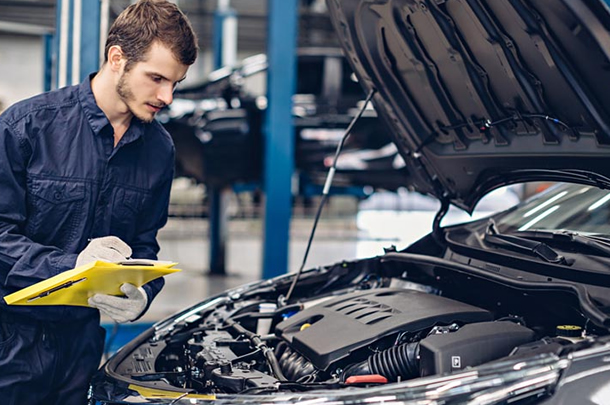 If you're driving a newer car, then there's a good chance you've already experienced the sticker shock of going to the dealership for scheduled maintenance. It's no secret that oil changes, tune ups, tire rotation, and other services cost more at the dealership, but few realize that we offer the same (if not better) services.
Scheduled maintenance, also called preventative maintenance, is a plan set forth by your car's manufacturer and details how often you'll need oil changes or other service. At Big Guy Automotive, we are well acquainted with the service schedules of a wide variety of models and understand exactly what's needed at every stop of the process.
In addition to keeping your car running, our scheduled maintenance servicing comes with the extra benefit of quality. We'll always use OEM parts or better and we've worked hard to earn our strong reputation for providing affordable preventative maintenance that keeps your warranty intact.
Oil changes are a well known part of regular maintenance and can help to reduce the chance of component damage by replacing the oil and filter. These are commonly saturated with debris and contaminants.During your regular service visits, you can also count on us to check your fluid levels, top up as needed. We also check windshield wiper operation, lights, belts, filters, visually inspect the undercarriage, and set tire pressures. When you leave our repair facility, you can be rest assured that your vehicle is well-prepared to meet the next 5,000/ 8,000 km intervals as listed in your owner's manual.
Steering, Suspension and Brakes
You may experience an odd noise on your undercarriage, such as a clunk, bang, or squeek. It may just be something minor, however; it's a good idea to get it checked out by a professional. A loose bushing or worn out joint can cause a looseness in the steering and effect steering response (which is unsafe.)
Tire, Wheel And Alignment Services
You may not pay much attention to the wheels and tires on your car, but when there's a problem, we guarantee you'll notice. You need good wheels and tires to navigate the streets as well as a partner to fix them when problems arise. The mechanics at Big Guy Auto are more than capable to handle your tire and wheel needs. We will diagnose and install them at competitive price.
If you've noticed vibration or shaking while you drive, then there's probably an issue with your tires or wheels. Over time, tires can become unbalanced. We will get it taken care of and eliminate that annoying vibration or pull to one side. Using our professional-grade equipment, we'll use digital testing to assess the problem and then provide the best fix.
The thing to remember about wheels, tires and alignment problems is that they often lead to bigger issues. Wheels that are out of balance can cause bent axles and other more costly repairs. Not having enough tread on your tires creates an unsafe driving situation. Alignment beyond specification can cause odd tire wear, and constant steering wheel correction.
The engine is the beating heart of your car and it is also the single most complex part of your vehicle. When there are engine problems, it can affect every other part of your ride and these problems could leave you stranded on the side of the road.
Whether your car's from this year or three decades ago, we have the experience and knowledge needed to perform engine your repairs. Whether it's carburetor to fuel injected, new and classic, we have the appropriate diagnostic tool and experience to properly diagnose and repair.
Even the best engines will accumulate their share of wear and tear over the years, but we recommend thorough engine maintenance to ensure the longest possible engine lifespan. Come to us for routine maintenance as well as engine repairs and we'll keep you treasured car running as long as possible.